Carbon Silicon Analyser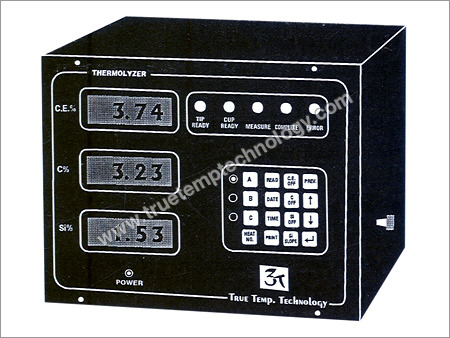 Carbon Silicon Analyser
Product Description
We hold vast acumen and expertise in offering our customers premium quality Carbon - Silicon Analyser. This analyser is manufactured using advanced techniques in strict conformance with international standards. Its functionality is fully controlled by microprocessor which ensure its quick and accurate results. Moreover, it comes with built in memory and is capable of storing past 35 records. Clients can avail this Carbon - Silicon Analyser at very reasonable prices from us.
Other details:

The Proven method of determining % Carbon Equipment, % Carbon & % Silicon of Molten iron.
Carbon - Silicon Analyser is a microprocessor based instrument for rapid & accurate quality assurance measurements of the composition of ferrous metals. It is a metallurgical Analysis equipment used with 3T cups which measures within Seconds % Carbon Equivalent, % Carbon & % Silicon of molten Iron. Iron foundries used carbon and carbon equivalent measurement to determine the mechanical properties such as tensile strength, hardness, machinability, graphite flake size etc.
The Relationship CE + C + Si/4 + P/2
The 3T cup consists of a horizontal precision thermcouple mounted in a sand Crucible (Cup) of specific dimensions. The cup is put on a Holder mounted stand which is connected to the microprocessor based instrument. The liquid metal is poured into the cup and arrest point TL (Liquidus) & Ts (Solidus) are determined. By computation, TL gives CE value and TL & Ts together give CE, C & Si value which are displayed on the Analyser.
Salient Features

An attractive International look Specially designed for foundry conditions.
Parameter setting by means of user friendly Soft touch key board.
Exact measuring status indication using solid state LED Lamps.
Built in Peak Hold Temperature Indicator.
Suitable for any grade of SG Iron, Cast Iron & Malleable Iron.
Display of error with description.
Optional large remote display
Optional Computer Inter Face Facility.
Specifications

Accuracy: For CE & C - +-0.05%, For Si - +-0.1%
Power: 15 W, without Printer
LED display: 25mm King's Bright
Thermocouple: K type for Carbon silicon Analysis R or S type for peak Temperature Indication.
Printer (Optional): PC compatible.
Contact Us
197, Main Road, Libaspur, Delhi, Delhi, 110042, India
Phone :+918037268305